This is the same shirt that both Jeff Gordon and Shane Stewart are wearing in their respective Kick-It games. By purchasing your Kick-It / Jeff Gordon Children's Foundation t-shirt, you're showing your support for the cause and helping children kick kids cancer!
Kick-It is a grassroots fundraising movement dedicated to improve and accelerate advancements in pediatric cancer research by inspiring individuals across the country to play kickball. By organizing a game, joining a team or making a donation (or just buying a shirt), you are helping thousands of children fighting cancer.
For more information, visit
http://jeffgordonchildrensfoundation.org
or
http://Kick-It.org/jeffgordon
PLEASE NOTE: This item is available for pre-order and will ship on or around 9/10/2012. If you wish to receive other in-stock merchandise sooner, please place separate orders.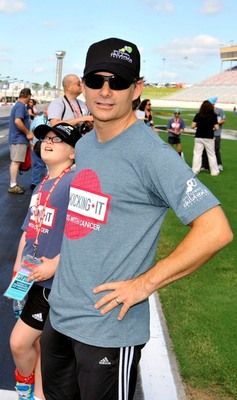 Shane Stewart, driver of the #57 sprint car, sponsored by Kick-It and the JGCF! Nice shirt!
Customer Reviews
Post Review
Currently, there are no reviews available.